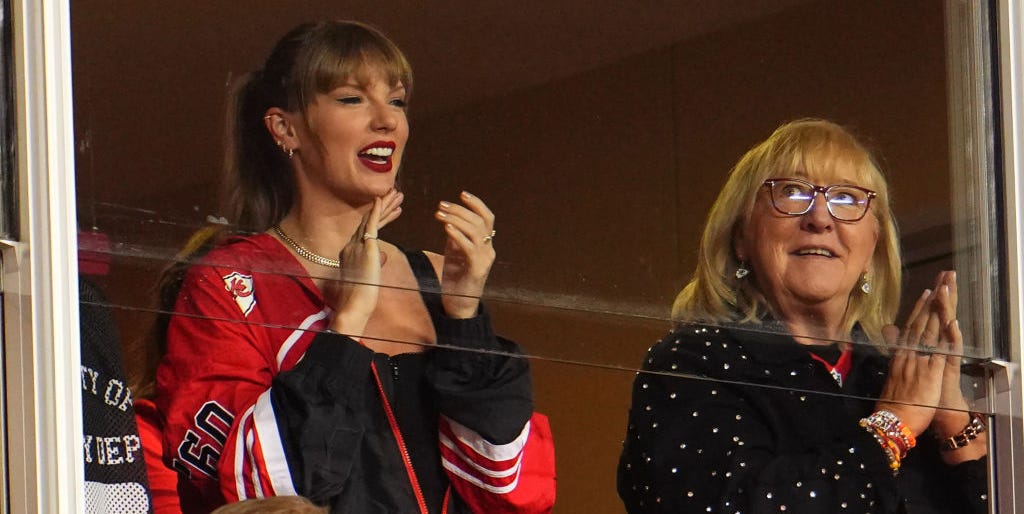 Taylor Swift and Travis Kelce's Full Relationship Timeline
Taylor Swift and Travis Kelce appeared to confirm their budding romance in September, when the singer showed up to support the Kansas City Chiefs tight end at a home game at Missouri's Arrowhead Stadium. The move came months after Kelce first publicly expressed interest in Swift, after attending one of her concerts.
Ahead, see everything we know about their relationship so far.
---
October 12, 2023: Taylor attends another Chiefs game.
Things may be getting serious between Swift and Kelce, as the singer attends another one of the football star's home games, this time against the Denver Broncos.
More From Harper's BAZAAR
Swift is seen wearing a red Chiefs jersey over a black top and gray skirt, and spending time with Brittany Mahomes (wife of Chiefs quarterback Patrick Mahomes), as well as with Kelce's mom and dad. Donna Kelce is even spotted wearing a Taylor Swift–inspired beaded friendship bracelet!
October 6, 2023: Travis comments on the romance and the media attention.
During an interview at the Chiefs' practice facility, Kelce shares how he feels about being at the center of so much speculation about his relationship with Swift.
"As all the attention comes, it feels like, you know, I was on top of the world after the Super Bowl and right now even more on top of the world," he tells reporters. "So it's fun."
"We're learning with the paparazzi just taking photos from all over the place, but at the same time, it's—you know, it comes with it. It comes with it," Kelce adds. "You got a lot of people that care about Taylor, and for good reason."
He continues: "Just gotta keep living and learning and enjoying the moments. At the end of the day, you know, I've always been pretty good about compartmentalizing and being able to stay focused in this building. So I'll just keep rolling with that."
October 2, 2023: Sources share details on the relationship.
A source tells People that Swift and Kelce are "still just getting to know each other" and that "[i]t's nothing too serious."
The insider adds that the pair haven't yet defined their relationship. "He is a charming guy. It's more of a hanging out situation than dating," they say, adding that the tight end is focused on his team and the NFL season more than anything else.
October 1, 2023: Travis's mom posts Taylor on Instagram.
NBC's Sunday Night Football shares a video of Swift hugging Kelce's mom, Donna, in the Chiefs VIP box during the team's game on September 24.
"Mama Kelce and Taylor Swift. ♥️," the caption reads, along with a note over the clip: "Travis Kelce's biggest fans ♥️." Donna Kelce then reposts the video in collaboration with SNF on her own Instagram, giving the singer her official seal of approval.
October 1, 2023: Taylor brings her celebrity posse to Travis's game in New Jersey.
The Grammy winner is spotted arriving at MetLife Stadium on Sunday to support the NFL player at his game against the New York Jets. For the occasion, she's accompanied by close friends Blake Lively, Ryan Reynolds, Sophie Turner, and even Hugh Jackman. Swift does not wear Chiefs red, but instead layers a black leather jacket over a black long-sleeved top, high-waisted denim shorts, and knee-high leather boots, completing the look with her signature red lip.
See all the photos of the stars together at the game.
September 29, 2023: They seemingly spend the night together.
Kelce is seen dining at newly-opened New York City hotspot Meduza Mediterrania as Swift grabs dinner at Emilio's, an eyewitness tells Bazaar.com. The two reportedly meet up later in the night and spend the night together at Swift's Tribeca apartment. Photos shared by Page Six show him leaving the home the next morning, ahead of his game.
September 25, 2023: Travis talks about their romance.
In a teaser for the September 27 episode of his podcast New Heights—which he co-hosts with his brother, fellow NFL star Jason Kelce—the Chiefs tight end lightheartedly addresses his romance with Swift.
"We've been avoiding this subject out of respect for your personal life," Jason says. "Now, we've gotta talk about it."
"Yeah, my personal life that's not so personal," Travis responds. "I did this to myself, Jason. I know this."
The Philadelphia Eagles center then jokes, "Well, Trav, how's it feel that Taylor Swift has finally put you on the map?" At that, Travis bursts into laughter, and the promo ends.
September 24, 2023: Taylor supports Travis at his game.
Swift is pictured sitting in a VIP box at Arrowhead Stadium in Kansas City, Missouri, on Sunday next to Kelce's mother, Donna; the two chat and happily cheer on the Chiefs.
After the game, Swift and Kelce are seen walking out together, and Kelce even wears a 1989 Bedroom Painting set from Kid Super Studios—a clear nod to Swift's 1989 album!
Swift, meanwhile, dresses in the team's signature red, layering a red bomber jacket over a white tank and black jeans, and wearing her go-to red lipstick.
The pair later grab dinner in the rooftop lounge at Kansas City's Prime Social. An eyewitness tells Entertainment Tonight, "Travis bought out the restaurant for his family and team. Taylor arrived, wearing a denim dress, and was seen snacking, having some cocktails and dancing alongside Travis. The two were very affectionate with one another but kept things fun and lighthearted. Travis' teammates also showed up to the after-party, as well as his mom, Donna Kelce. The party lasted until 2 a.m."
Days later, a photo emerges of them together at the restaurant. In it, Swift is seen with her arm wrapped around Kelce at the bar, while chatting with some friends. (See the photo here.)
September 21, 2023: Travis comments on the romance rumors.
"It's hilarious how much traction this has actually got," Kelce says on The Pat McAfee Show of his potential romance with Swift. "I think right now it's like that old game in school called telephone, where everybody is just whispering in each other's ear and just hearing some random stuff … no one actually knows what's going on."
He adds of his and Swift's relationship: "I threw it out there; I threw the ball in her court, and y'know, I told her … 'I've seen you rock the stage in Arrowhead. You might have to come see me rock the stage in Arrowhead and see which one's a little more lit.' So we'll see what happens in the near future."
September 17, 2023: Travis addresses jokes about the alleged romance.
The football star responds after sports commentator Rich Eisen makes several Swift-related references in his broadcast of NFL GameDay Morning.
"Even though that bone bruise and the injury one would think is delicate, he's been able to shake it off," Eisen says of Kelce, before referencing several more of Swift's hits. He later incorporates another song title into his Instagram caption of the video, writing, "Look what you made me do @killatrav."
Kelce simply replies, "Well played Rich. … Well played."
September 12, 2023: Sources say they stars are hanging out.
The Messenger reports that "Taylor and Travis have been quietly hanging out" and that, "She saw him when she was in NYC a few weeks ago."
Soon after, sources tell Entertainment Tonight that Swift and Kelce are in the "talking" phase of their relationship and are keeping it casual given their hectic schedules. The insider adds, "Travis has been into Taylor for a while and definitely has a crush on her. He is a simple guy that is very funny, charismatic, chill, and loves playing football."
July 26, 2023: Travis shoots his shot.
The NFL star first expresses interest in the Grammy winner after going to one of her Eras Tour concerts—though his plan doesn't exactly work out.
During an episode of his New Heights podcast (which he co-hosts with his brother, Philadelphia Eagles center Jason), Kelce mentions that he recently went to a Taylor show and wrote his number on a friendship bracelet to give to her, but wasn't able to deliver it.
"If you're up on Taylor Swift concerts, there are friendship bracelets, and I received a bunch of them being there, but I wanted to give Taylor Swift one with my number on it," he says.
Though Swift usually holds a meet-and-greet with fans after her concerts, she hasn't been doing so during the Eras Tour (as she performs for three hours or longer every night).
"I was disappointed that she doesn't talk before or after her shows, because she has to save her voice for the 44 songs that she sings," Kelce says, confessing that he was "a little butt-hurt" that he couldn't chat with her. "She doesn't meet anybody—or at least she didn't want to meet me, so I took it personal," he jokes.