Best podcasts of the week: Russell Howard and friends reveal their most precious possessions | Podcasts
Picks of the week
Wonderbox
Widely available, episodes weekly from Wed
Sam Ryder's obsession with mid-90s F1, Munya Chawawa's love of the Sega Megadrive beat-em-up Streets of Rage: these are the building blocks of Russell Howard's new series. Celebrity guests pick treasured items and place them in a fictional "Wonderbox" dedicated to their lives' most funny and special moments. It's a genial twist on the chat format and an interesting way to convince guests to share lively anecdotes. Alexi Duggins
Lasagna Ganja
Widely available, episodes weekly
Ignore the sound effects of people taking massive tokes and bubbling bongs; it's the podcast that shows stoners can be entrepreneurs too. Affable hosts Xzibit and Tammy "the Cannabis Cutie" provide a good balance of education and wasted giggles as they speak to industry experts about the benefits of weed and the latest trends. Hannah Verdier
The Road to Know Her
Widely available, episodes weekly
Alex Fuller and Emi Geddes are on a mission to learn more about women's health – and guts are a good place to start. Dr Megan Rossi is on hand with an easy-to-digest education, talking about seeing gut bacteria as her "bestie", how dieting has messed with the microbiome and why 30 types of plants is a good number. HV
Why Didn't You …
Widely available, episodes weekly
As misogyny reaches new heights by the day, Terri White's podcast where survivors of rape and sexual assault bravely tell their stories feels like the start of a fight back. It's proudly not sanitised, it's difficult to listen to and it's so vital. Ellie Wilson is the first survivor, talking openly about her attack and the anger-inducing and irrelevant questions she faced in court. HV
Out to Lunch With Ade Edmondson
Widely available, episodes weekly
Ade Edmondson takes over hosting duties of the food and chat podcast and is gifted with a dream gig: taking Chrissie Hynde to the Wolseley. Hynde orders the vichyssoise and then dishes up many anecdotes about the art of playing guitar, whether she wrote Smelly Cat and how touring has changed. AD
There's a podcast for that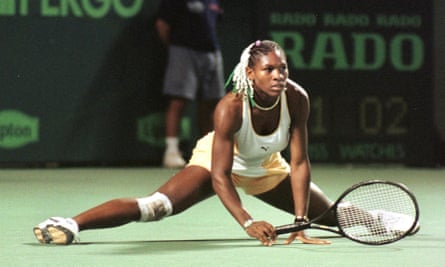 This week, Ella Braidwood chooses five of the best podcasts on sporting icons, from the making of Serena Williams to the story of tennis and basketball player Ora Washington, and the discrimination she faced throughout her career.
Untold Legends
Known as the "queen of two courts", Philadelphian-born Ora Washington excelled at both tennis and basketball, winning a total of 201 trophies throughout her glittering career. Undefeated for 12 years she dominated black women's tennis. Yet her brilliance was ignored: she wasn't allowed to compete for America's top titles because the sports were racially segregated at the time. This podcast, hosted by former US professional basketball player Renee Montgomery, uncovers Washington's life, including the discrimination she faced, from racism to sexism and homophobia. The seven-part series keeps viewers engaged with dramatic elements, and there's a bonus episode interviewing Montgomery about the making of the podcast.
The Making of Messi
Hosted by the Athletic's Mike Zimmermann, this three-part series explores the life of football legend Lionel Messi, in the wake of his move to Inter Miami in the US, the club co-owned by David Beckham. The podcast details Messi's story so far and why he is often deemed the GOAT ("Great of All Time") in men's football. The first episode covers Messi's upbringing in Rosario, Argentina, and his two-decade spell at Barcelona followed by his move to PSG; the subsequent episodes delve into what Messi's move to the Major Soccer League (MLS) means for football in America. Among the interviews are perspectives from former MLS footballers Bradley Wright-Phillips and Nedum Onuoha, alongside the Athletic's own journalists.
Sporting Witness
This veteran podcast has been running for over a decade, collating key moments from sporting history, including the inside stories of icons across cycling, gymnastics, cricket and more. Recent episodes include one on the Netherlands' Irene Van Dyke, the most capped international netball player; the story behind South Africa's star wheelchair racer Ernst Francois van Dyk; and another on golfer Tiger Woods winning his first US Masters in 1997. The podcast offers a good geographical spread and relatively even coverage of men's and women's sports, including athletes who've been subjected to discrimination – such as footballer Albert Johanneson, the first Black player in the FA Cup Final.
The GOAT: Serena Williams
Another podcast on a tennis icon, this time about Serena Williams. Hosted by Williams' friends Zina Garrison and Chanda Rubin, both once tennis stars themselves, the podcast explores the life of the 23-times grand slam champion, from growing up in Compton, California, with her tennis legend sister Venus Williams, to her biggest matches and rivalries. It also looks at Williams' legacy when it comes to inspiring Black women within and outside tennis. Among the podcast's star-studded guests are tennis great Billie Jean King and US open winner Andy Roddick, alongside Williams' older sister Isha Price.
30 for 30
Originally a series of films, the creators of 30 for 30 launched this podcast in 2017. With in-depth reporting, episodes shed light on lesser known stories and scandals. For example, a seven-part series follows the careers of gymnastic coaches Béla and Márta Károlyi, who trained nine Olympic champions. In another episode, The Spy Who Signed Me, women's basketball stars Diana Taurasi and Sue Bird open up about their complicated experiences of playing for lucrative Russian side Spartak Moscow Region, including their relationship with owner Shabtai Kalmanovich – a former KGB spy who was assassinated in 2009.
Why not try …
London-based horror podcast, Subterraneans, explores the city's underground history and architecture connecting it to contemporary problems, by way of ghosts and monsters.

For those of us who want to become calm and collected drivers: The Driving Confidence Podcast.
Create the Future looks at the modern face of engineering and how we can restructure and rebuild the world we live in.
If you want to read the complete version of the newsletter please subscribe to receive Hear Here in your inbox every Thursday