Best podcasts of the week: Fictional fanmail and fake famous 'friends' with Lolly Adefope | Podcasts
Picks of the week
Lolly Adefope's Fanmail
Audible, all episodes out now
Shrill and Ghosts star Lolly Adefope plays an insufferably self-involved version of her celebrity self in this comedy series in which she answers (potentially fake) fan mail with the help of her assistant Sandy. "How tall are you?' is just one probing example. She also invites her showbiz "friends" for chats, including Steve Coogan, Diane Morgan, Aidy Bryant and – somewhat unexpectedly – Steve Buscemi. Hollie Richardson
Vergil! A Mythological Musical
Audible, out now
A Will Young-led musical podcast about the charismatic poet behind The Aeneid. If that isn't enough to pique your interest, Young has a hoot playing Vergil as he is summoned to Italy by Emperor Augustus to write an epic poem to glorify Rome. Rapping! Pirate princesses! Drag Race's Divina de Campo! It's certainly different. HR
Shiny Bob: The Devil's Advocate
BBC Sounds, all episodes out now
Myles Bonnar's podcast about Robert Henderson QC and his accusations of a "magic circle" of gay judges and lawyers who posed a threat to the Scottish justice system is a powerful listen. What emerges in later episodes is utterly horrific, leaving listeners in no doubt that Henderson's homophobic behaviour was a distraction for his own evil deeds. Hannah Verdier
Under Cover of Knight
Widely available, episodes weekly
Sue Knight was found dead in her home in Texas in 1996, but the exact circumstances are still a mystery. This evocative podcast pieces together local stories and although their descriptions of her decomposing body are graphic, they're also relevant when there are still question marks over the timing of her death – and whether it even really happened. HV
Born to Love
Widely available, episodes weekly
Kimmy Schmidt's Ellie Kemper (pictured above) is on top form as the host of this homage to celebrity guests' random obsessions. From loudly singing along to the theme tune to yelling every line of dialogue, there's no accusing her and co-host Scott Eckert of being low-energy as they grill guests about their passions. Alexi Duggins
There's a podcast for that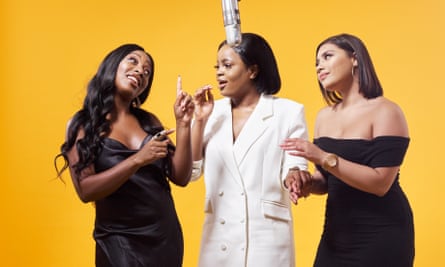 This week, Hannah Verdier picks five of the best agony aunt podcasts, from intimate advice from Naked Attraction's Anna Richardson to relationship revelations from Esther Perel.
It Can't Just Be Me
Anna Richardson is proud to be one of the nosiest women on TV (see: Naked Attraction) and now she's bringing her inquisitive nature to podcasting. When a listener sends a voice note with a dilemma, Richardson and her guests leave no stone unturned. Experts include dating coach Mel Schilling and comedian Rosie Jones, and the advice feels intimate and very useful. How can a serial monogamist spend time alone? What happens when your partner's jealous of your success? And how do you get back on the dating scene after a break? So many questions answered with a whole load of common sense.
Help! I Sexted My Boss
Radio 1's Jordan North is lovable and refreshingly unjaded on this podcast, joined by his friend William Hanson, the etiquette expert who is so posh he's never been to Greggs. Their podcast has been running for five years, with the agony uncles dishing out loads of advice in that time but remaining as authentic as ever. Their raging innuendoes, light attempts to not get cancelled, and discussions about, er, borrowing potato peelers have earned them a cult following. But, in between all this, the pair do get round to answering listeners' questions wisely.
The Receipts
What Tolly T, Audrey and Milena Sanchez (above) don't know about friendship and relationships isn't worth knowing. From bridesmaids trying to outshine brides to cheating parents and badly-behaved boyfriends, there's much to discuss in their hit podcast. And, so frank and warm are this trio, that you can't help but take their advice. Their guidance comes from the heart – and from their own friendship – as they read out dilemmas fresh from their phones. Sometimes episodes stray to the two-hour mark, so buckle up and get ready to learn every detail of their lives, punctuated by 90s singalongs and some highly unfiltered thoughts.
Where Should We Begin? with Esther Perel
Listening in on therapy sessions is, well, a form of therapy, and when psychotherapist Esther Perel talks in her mesmerising Belgian accent, you can't help but listen. Her podcast gives a real glimpse into other people's relationships and quirks, so if you're in the grip of a Married At First Sight Australia obsession, for example, she could provide the next level for your gawking. From a couple who've been married twice (to each other) but still fight about chores and cats, to a cross-examination of why two people left their partners for an affair, she goes deeper than any other podcaster would dare.
Dear Joan and Jericha
Every woman of a certain age needs to know the dangers of messing with your anal sleeve, so it's fortunate that straight-talking Joan (Julia Davis) and Jericha (Vicki Pepperdine) are here to explain what the hell that is. These pioneering beacons of female mid-life empowerment have covered dating, death and everything else their experience in psycho-sexual counselling and writing erotic-romantic adult fiction permits in their hilarious podcast. Of course it's all totally fictional, but there's something cathartic about binging their awful advice – here's hoping they return with a new series soon.
Why not try …
From the latest in crypto to the buzz around AI tech, The FT makes financial news more digestible in Unhedged.

Business-minded influencer Patricia Bright returns with more personal development pep talks in The Break.

How would we fare in a world devoid of coffee … or antibiotics? Writer Omar El Akkad investigates in Without.
If you want to read the complete version of the newsletter please subscribe to receive Hear Here in your inbox every Thursday