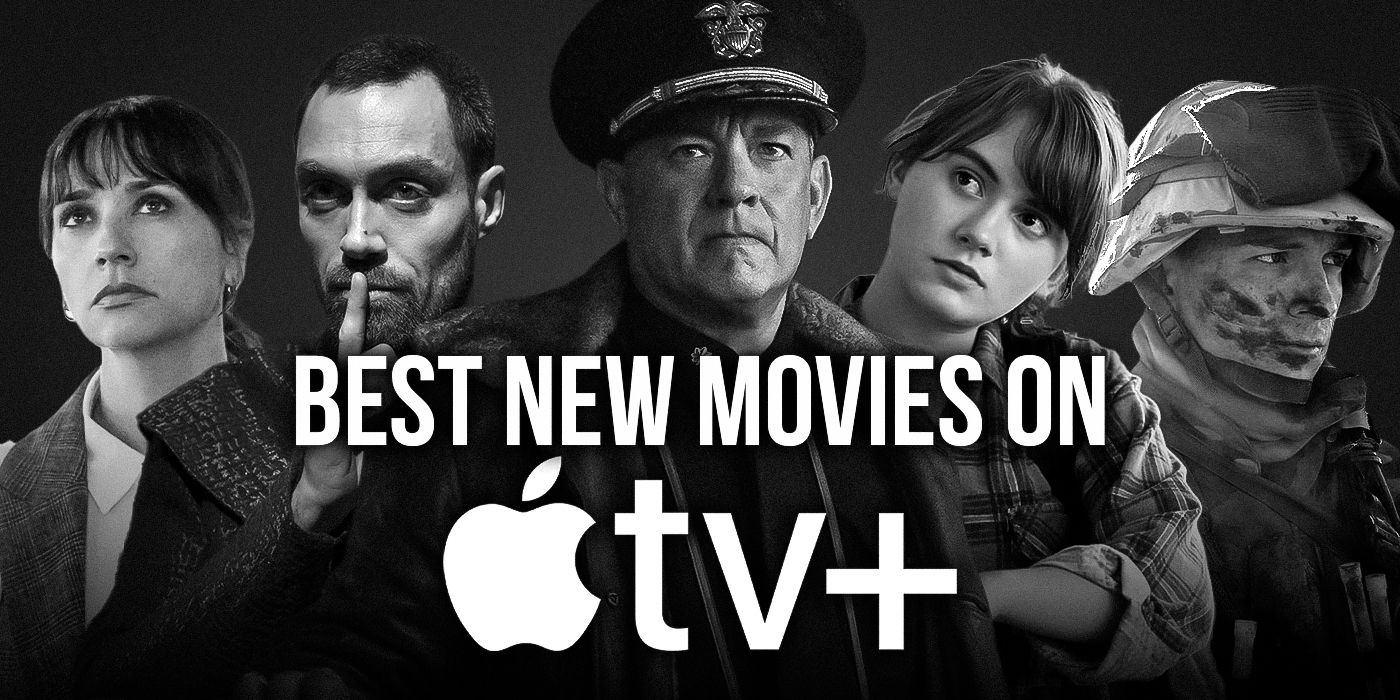 Best New Movies on Apple TV (June 2023)
From documentaries to dramas, here are some great films now streaming on Apple TV.
Apple TV is truly making its mark among the already large — and rapidly growing — number of streaming services. CODA, for instance, took home top prize at the Oscars, winning Best Picture, and shows like Severance have gotten rave reviews and attracted top talent like Ben Stiller, Adam Scott, and Patricia Arquette. While Apple TV's library isn't quite as extensive as other platforms, there are still some excellent gems. Read on to discover your next movie night pick — and perhaps even your new favorite new film.
Don't see what you're looking for? Browse our lists of the best flicks on Netflix, Hulu, Prime Video, HBO, or Disney+.
Editor's note: This article was updated June 2023 to include Still: A Michael J. Fox Movie.
RELATED: The Best Shows on Apple TV+ Right Now
CODA (2021)
Run Time: 1 hr 51 min | Genre: Coming-of-Age Comedy Drama | Director: Sian Heder
Cast: Emilia Jones, Troy Kotsur, Daniel Durant, Marlee Matlin, Eugenio Derbez, Ferdia Walsh-Peelo, Amy Forsyth, Kevin Chapman
CODA stands for children of deaf adults and that's exactly what Ruby Rossi (Emilia Jones) is, daughter to Jackie (Marlee Matlin) and Frank (Troy Kotsur) and sister to Leo (Daniel Durant), Ruby is the only hearing member of her culturally deaf family. On top of just trying to get through school, she works for her family's fishing boat, joining her brother and father out on their boat and helping to translate for her dad when he has to do business. With the surmounting level of pressure of being the voice for her family to the hearing world, she finds an outlet through singing. A passion that she pursues with the potential of going to university in Boston at Berklee. CODA is immensely emotional and heartfelt and is lead by deaf actors. Ruby's coming-of-age story is sure to tug at the heartstrings of anyone who relates to the surmounting pressure of family obligation battling against personal dreams and desires. — Therese Lacson
Still: A Michael J. Fox Movie (2023)
Run Time: 1 hr 35 min | Genre: Documentary, Biography | Director: Davis Guggenheim
Cast: Michael J. Fox, Tracy Pollan, Aquinnah Fox
Still: A Michael J. Fox Movie is a wonderfully inspiring documentary directed by Academy Award winner Davis Guggenheim (An Inconvenient Truth) about the life and struggles of unflappable actor and advocate Michael J. Fox (Back to the Future). Fox gives fans a new level of access to his life, crafting his story with his own hands through interviews and segments he wrote himself. Guggenheim then takes the narrative to a whole new level by seamlessly weaving archival footage with staged bits that come together perfectly to craft an insanely entertaining film that will leave viewers pumping their fists at Fox's incredibly optimistic and uplifting drive to be a great man.
Ghosted (2023)
Run Time: 1 hr 56 min | Genre: Romance Comedy Action | Director: Dexter Fletcher
Cast: Chris Evans, Ana de Armas, Adrien Brody, Mike Moh
Ghosted is an action-packed romantic comedy directed by Dexter Fletcher. Chris Evans (The Gray Man) stars as Cole, a regular down-to-earth guy, alongside Ana de Armas (Knives Out), who plays Sadie, the alluring woman Cole falls for before discovering she's actually a secret agent. A film stacked with an incredible cast, Ghosted also includes appearances from Adrien Brody and Mike Moh, as well as some Avengers like Anthony Mackie and Sebastian Stan. Through magnetic chemistry and impressive stunts, Evans and de Armas allow Ghosted to captivate, providing a heart-pumping adventure sprinkled with charming humor. – Yael Tygiel
Sharper (2023)
Run Time: 1 hr 56 min | Genre: Mystery Psychological Thriller | Director: Benjamin Caron
Cast: Justice Smith, Briana Middleton, Sebastian Stan, Julianne Moore, John Lithgow
Sharper, directed by Benjamin Caron, cleverly immerses its narrative within the neo-noir genre, presenting a delectable cat-and-mouse game where no one is what they seem. Highlighted by John Lithgow (The Crown) as a Manhattan billionaire, Sharper weaves a web of lies, stringing along both the audience and characters in hopes of revealing the truth at its core. Along with Lithgow, Sharper sizzles with an eclectic cast, like Falcon and the Winter Soldier's Sebastian Stan, Detective Pikachu star Justice Smith, and Kingsman: The Golden Circle's Julianne Moore. – Yael Tygiel
Emancipation (2022)
Run Time: 2 hrs 12 min | Genre: Historical Drama | Director: Antoine Fuqua
Cast: Will Smith, Ben Foster, Charmaine Bingwa, Gilbert Owuor, Aaron Moten
Will Smith (King Richard) stars in Emancipation, an unforgettable story set in the 1860s and inspired by real events and people. Smith's haunting performance as Peter, an enslaved man fleeing a cold-blooded plantation owner who nearly kills him, is indisputable. Supporting Smith are co-stars Ben Foster and Charmaine Bingwa (The Good Fight), allowing Emancipation director Antoine Fuqua (The Equalizer) to capture the substantial, tortuous journey of Peter's escape. In tandem with Fuqua is cinematographer Robert Richardson, who chronicles Peter's brutal survival through unforgiving Louisiana swamps on his quest to freedom in the North. – Yael Tygiel
Causeway (2022)
Run Time: 1 hr 32 min | Genre: Drama | Director: Lila Neugebauer
Cast: Jennifer Lawrence, Brian Tyree Henry, Linda Emond
Causeway is a thought-provoking drama starring Oscar-winning actress Jennifer Lawrence (The Hunger Games) as Lynsey, a soldier returning from fighting in Afghanistan. Causeway explores the struggle of many military personnel who must learn to adjust to civilian life. In Causeway, Lynsey's story is even more complicated, as a traumatic brain injury complicates her ability to adapt. Co-written by Ottessa Moshfegh, Luke Goebel, and Elizabeth Sanders, Causeway also has a tremendous supporting cast, including Brian Tyree Henry (Atlanta) and Linda Emond. Through her keen eye and lingering silent moments, director Lila Neugebauer provides a compelling investigation into the side effects of war. – Yael Tygiel
Selena Gomez: My Mind and Me (2022)
Run Time: 1 hr 35 min | Genre: Documentary | Director: Alek Keshishian
Cast: Selena Gomez, Raquelle Stevens, Liana Blackburn, Brent L. Boxberger
An intimate and deeply personal documentary, Selena Gomez: My Mind and Me explores the private thoughts of the actress and pop star. Featuring personal home videos from her childhood and throughout her life, Selena Gomez: My Mind and Me exposes a slew of honest and raw truths from Selena Gomez. Unabashedly declaring her diagnoses of medical conditions and mental illnesses, Gomez discloses her most profound realizations in hopes of helping viewers and fans who find themselves in similar situations. A brutally profound documentary, Selena Gomez: My Mind and Me is uplifting as it confronts fears, shame, and discomfort for a greater good. – Yael Tygiel
Luck (2022)
Run Time: 1 hr 45 min | Genre: Animated Fantasy Comedy | Director: Peggy Holmes
Cast: Eva Noblezada, Simon Pegg, Jane Fonda, Whoopi Goldberg
The streamer's first original animated film, Luck centers around Sam Greenfield (Eva Noblezada), the unluckiest girl in the world who recently aged out of the foster care system. Despite all the challenges she faces, she's most concerned about Hazel (Adelynn Spoon) and hopes she can transfer whatever small bit of luck she does have to help her find her forever family. When Sam picks a lucky penny up, she is transported into another world where she learns how good and bad luck is decided and must go on an adventure with a black cat named Bob (Simon Pegg) to secure Hazel's adoption. Original, moving, and genuinely funny, Luck is a great watch for the whole family. – Taylor Gates
Cha Cha Real Smooth (2022)
Run Time: 1 hr 47 min | Genre: Comedy Drama | Director: Cooper Raiff
Cast: Dakota Johnson, Cooper Raiff, Raúl Castillo
Touching, hilarious, and bold, Cha Cha Real Smooth is a refreshing story about that awkward part of life right after college graduation. The film centers around Andrew (Cooper Raiff), a 22-year-old who becomes a party starter for bat mitzvahs. It's there he meets Domino (Dakota Johnson), a young, single mom to her autistic daughter Lola (Vanessa Burghardt). Andrew and Domino quickly develop a relationship that dances the line between friendship and romance as he also begins babysitting Lola from time to time. Cha Cha Real Smooth is an earnest watch that wears its heart on its sleeve. If you're looking for something that will give you some laughs and maybe even a few tears, make it your next movie night pick. – Taylor Gates
Beastie Boys Story (2020)
Run Time: 2 hr | Genre: Documentary | Director: Spike Jonze
Cast: Michael Diamond, Adam Horovitz
Beastie Boys Story offers an interesting blend of live performance and documentary footage. The film compiles three live shows, where Beastie Boys alumni Michael Diamond and Adam Horovitz tell the story of their career and friendship to an audience of passionate fans. It allows the two men to reclaim their stories — and even apologize for some of the crude content within their earlier material. It's fun watching Diamond and Horovitz feed off the crowd's energy, but Beastie Boys Story packs an emotional wallop by the end. Diamond and Horovitz offer a touching tribute to their departed bandmate and best friend, Adam Yauch. –Liam Gaughan
Who Are You, Charlie Brown? (2021)
Run Time: 54 min | Genre: Documentary | Director: Michael Bonfiglio
Cast: Lupita Nyong'o, Tyler Nathan Jones, Isabella Leo, Terry McGurrin, Al Roker, Kevin Smith, Drew Barrymore
Apple TV claimed the rights to the beloved Peanuts characters and began developing new original programming that followed the further adventures of Charlie Brown, Snoopy, Linus, Sally, Peppermint Patty, and the rest of the gang. The 2021 documentary Who Are You, Charlie Brown? utilizes new animated segments featuring the beloved characters and tells the life story of their creator, Charles Schulz. Narrated by Lupita Nyong'o, Who Are You, Charlie Brown? explains how Schulz drew from his own life when writing the classic strips. The documentary incorporates interviews with celebrities who talk about their Peanuts fandom. Al Roker's comments about feeling represented by the character Franklin are particularly insightful. –Liam Gaughan
Swan Song (2021)
Run Time: 1 hr 56 min | Genre: Sci-Fi Romantic Drama | Director: Benjamin Cleary
Cast: Mahershela Ali, Awkwafina, Glenn Close, Naomie Harris
Swan Song is not the high-concept science fiction thriller that you might expect. Set in the not-so-distant future, the film takes place in a world where cloning technology has been developed. Cameron Turner (Mahershela Ali) learns that he is dying from a terminal illness and has only a few months to live. He is presented with a difficult decision: Should he allow an identical clone to take his place, thus ensuring his family's happiness? Impressively, Swan Song doesn't turn the premise into a thriller. It remains squarely focused on the moral and emotional questions that Cameron is forced to answer. –Liam Gaughan
Bruce Springsteen's Letter to You (2021)
Run Time: 1 hr 30 min | Genre: Documetnary | Director: Thom Zimny
Cast: Bruce Springsteen, Roy Bittan, Nils Lofgren, Patti Scialfa, Garry Tallent, Steven Van Zandt
Bruce Springsteen has had a bit of a comeback recently. Between the Bruce-centric coming-of-age film Blinded by the Light, the documentary Western Stars, and Netflix's Springsteen on Broadway, "the Boss" has reintroduced himself to a new generation of fans. Springsteen's 2020 album Letter to You is a quieter, more reflective piece from Springsteen. The album was released in conjunction with this Apple TV documentary, where Springsteen discusses how he was coping with his mortality in a post-COVID world. Springsteen is renowned for his honesty, but he's rarely been more publicly sentimental and vulnerable. Letter to You is a treat for lifelong fans of "the Boss," but it also may help younger listeners understand why Springsteen captured the voice of a generation. –Liam Gaughan
Billie Eilish: The World's A Little Blurry (2021)
Run Time: 2 hr 20 min | Genre: Documentary | Director: R.J. Cutler
This documentary follows singer Billie Eilish as she completes and performs her debut album, When We All Fall Asleep, Where Do We Go?. Moving effortlessly between home videos, professionally shot footage, and live performances, Billie Eilish: The World's A Little Blurry is an intimate look at the young artist as she is catapulted into the spotlight. It's a look at not only her creative process but also her personal life. As honest as her music is, this documentary gives us an even deeper look at the ups and downs of this moment in Billie's life. – Brynna Arens
Wolfwalkers (2020)
Run Time: 1 hr 43 min | Genre: Animated Fantasy Adventure | Director: Tomm Moore, Ross Stewart
Cast: Honor Kneafsey, Eva Wittaker, Sean Bean, Simon McBurney, Tommy Tiernan, Jon Kenny, John Morton, Maria Doyl Kennedy
Set in 1650s Ireland, Wolfwalkers tells a magical and exciting story about two girls. One, Robyn, is young hunter, and the other is Mebh, a wolfwalker. As a wolfwalker, Mebh's spirit leaves her body and shapeshifts into the form of a wolf and her own mother's wolf has been missing, so she guards her mother's sleeping body while searching for the wolf. When the two girls encounter one another, Robyn is bitten by Mebh who is caught in a trap. But when Robyn frees Mebh the two become fast friends, and since Robyn was bitten, she soon discovers that she's become a wolfwalker as well. Created by the directors behind The Secret of Kells and Song of the Sea, Wolfwalkers is both an inspiring piece of storytelling about a girl finding her voice and also a fantastic work of animation. It is impossible not to be enchanted by the wolfwalker world and wish that when you fall asleep, your spirit will also come alive and turn into a wolf. — Therese Lacson
Greyhound (2020)
Run Time: 1 hr 31 min | Genre: War | Director: Aaron Schneider
Cast: Tom Hanks, Stephen Graham, Rob Morgan, Elisabeth Shue, Manuel Garcia-Rulfo, Karl Glusman, Tom Brittney
Tom Hanks is known for his in-depth World War 2 content and Greyhound is no exception. As commanding officer Ernest Krause of the USS Keeling, codename Greyhound, Hanks is faced with protecting a convoy of ships through the gap in the Atlantic where there is no air cover for battleships. The film is 91 minutes of tense, non-stop battle and strategy to get the convoy of 37 Allied ships to Liverpool safely while under constant attack from U-Boats. This story in the middle of the Battle of the Atlantic is based on a novel from 1955 by C.S. Forester entitled The Good Shepherd. The film was nominated for Best Sound at the 2021 Academy Awards. — Jennifer McHugh
Come From Away (2021)
Run Time: 1 hr 46 min | Genre: Musical | Director: Christopher Ashley
Cast: Petrina Bromley, Jenn Colella, De'Lon Grant, Joel Hatch, Tony LePage, Caesar Samayoa, Q. Smith, Astrid Van Wieren, Emily Walton, Jim Walton, Sharon Wheatley, Paul Whitty
In the aftermath of the attacks on 9/11, 38 planes incoming from Europe were diverted to a small island off the coast of Canada. The small town of Gander was suddenly faced with the challenge of housing, clothing, and feeding 7000 people (and 19 animals) while the world waited to see what would happen next. Based on a true story, the musical premiered on Broadway in 2017. The movie is a filmed performance from March 2020 with an invited audience with members of the original cast of the Broadway Show. It is a moving story with powerful music that shows what can happen when everyone comes together even when they come from far away. — Jennifer McHugh
On The Rocks (2020)
Run Time: 1 hr 36 min | Genre: Comedy Drama | Director: Sofia Coppola
Cast: Rashida Jones, Bill Murray, Marlon Wayans
Sofia Coppola's 2020 comedy-drama On The Rocks stars Rashida Jones and Bill Murray as Laura and Felix, respectively. Laura is a novelist stuck in an exhausted rut, as she raises her two daughters whilst her husband, Dean (Marlon Wayans), seems to be constantly working. After a few suspicious slips, Laura becomes convinced that Dean is having an affair, and so she enlists the help of her father, Felix. Felix is a silver-tongue, could talk his way out of nay situation, affluent art-dealer, who wasn't always the most present father to Laura. Together, they embark on a journey of espionage and reconnecting around New York City, and then even Mexico. On The Rocks went fairly under the radar compared to Coppola's previous works. That is probably to do with the fact it went straight to Apple TV in the middle of a pandemic. It may not have the same charm as Lost in Translation but still, Coppola and Murray go together like coffee and cream and that's still the case 17 years later. It's laced with Coppola's usual witty quips and Bill Murray is still the coolest cat in town (apart from Garfield). — Emma Kiely
Boys State (2020)
Run Time: 1 hr 49 min | Genre: Documentary | Director: Amanda McBaine, Jesse Moss
A bleak yet illuminating look at how our politics have become so corrupted, even in the next generation of leaders, Boys State is a documentary that is at its best when it is a character study of today's young people. Directed by Amanda McBaine and Jesse Moss, it is a profile of the various Texas youth who attend a mock government camp. There is Steven Garza, the film's heart who tries to hold onto his conscience when everyone else is content to manipulate and backstab at a moment's notice. Key amongst these backstabbers is Ben Feinstein, a politically savvy and cold leader who throws everything out of balance. It is oddly compelling and horrifying, shining a harsh light on the alarming capacity of even young people to become callous political operatives. It is a deeply unnerving experience that does offer some bright spots, though they are few and far between. It is unflinching in capturing all that this strange youth camp and the people who attend it reveal about ourselves. — Chase Hutchinson
Finch (2021)
Run Time: 1 hr 55 min | Genre: Post-Apocalyptic Sci-Fi | Director: Miguel Sapochnik
Cast: Tom Hanks, Caleb Landry Jones, Seamus
Have you ever wanted to see a buddy road trip movie with Tom Hanks, a robot, and his dog? Well, the science-fiction film Finch delivers all that with a sense of warmth and care. It isn't a story that reinvents the wheel by any means, though Hanks as Finch is typically strong and Caleb Landry Jones as the robot Jeff steals every single scene in a remarkably understated performance. The story centers on the trio having to make a long cross-country trip in a post-apocalyptic America that has become basically uninhabitable due to radiation. Finch is ailing but wants to make sure his beloved dog can get to safety as extreme weather events threaten them at nearly every turn. It is sentimental to a fault and a lighter type of film that knows exactly what it is. A final monologue from Hanks towards the end is but the icing on the cake of this sweet little film that gets to its destination largely in one piece. — Chase Hutchinson