19 fun and easy summer crafts for kids
Summer is usually a kid's favorite time of year, but it can be challenging for all the parents, nannies and babysitters looking for an endless supply of fun activities to keep kids busy — particularly when it's raining or the pool as lost its luster. The good news is there are a ton of summer crafts for toddlers, preschoolers and big kids that are sure to provide hours of entertainment and learning — and they don't involve opening a house account with Michaels or hours of clean-up. That said, these simple and cheap crafts will look like a million bucks in the end.
Here are 19 summer crafts for kids that are easy, inexpensive, great for all age groups and perfect to do indoors or out in the summer sun!
1. Popsicle banner
Get some markers, paper, popsicle sticks and string to make this colorful popsicle banner by Wood Home Adventures. Seriously, if this isn't one of the cutest summer crafts for kids, we don't know what is.
2. Painted rocks
Rock painting is a creative craft made from easy-to-find materials; just look in your backyard! These painted rocks from RockFun503 include feel-good messages, but you can paint yours however you'd like for summer. 
3. Tree bark canvas
For this creative craft, Learn.Craft.Grow uses eucalyptus bark to create a beautiful tree bark canvas for summer artwork. Many trees or even driftwood found on the beach can provide a beautiful canvas for summer artwork.
4. Clay shell wall hanging
Turn air-dried impressions of shells into a decorative clay shell wall hanging with this craft from the Rainbow tree.
5. Ice painting
You don't need much to have a good time with this ice painting activity, according to Annie at I'm a Good Mom, I Swear. Simple fun for toddlers on hot summer days.
6. Design-your-own shoes
Get some plain, white shoes for this colorful design-your-own shoes craft. Kellymwynns uses Sharpies and rubbing alcohol to create tie-dye-like designs.
7. Summer tic-tac-toe
Making this summer tic-tac-toe game from Roses & Whiskers is only half the fun. Your artwork becomes a cool game to play again and again.
8. Paper plate apples
Kids of any age can craft this easy-to-make paper plate apple from the Craft + Boogie Collective.
9. Ice cream cone craft
PiggieSteps Art Studio offers lots of videos for their crafts, including this one for an ice cream cone craft with pull-string pompoms. One of the yummiest summer crafts for kids indeed!
10. Paper plate sun
Want an easy summer craft for your kids to enjoy? You can't go wrong with sunny paper plate craft from Play Learn Create With Me.
11. Vinyl lacing cards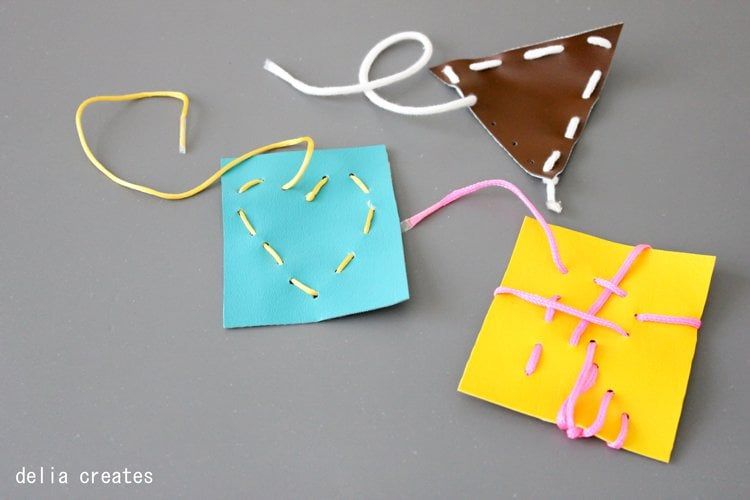 These cool vinyl lacing cards from Delia Creates are a craft and an activity all in one. 
12. Salt painting
Salt painting is a classic activity for all ages and all seasons. Give it a summertime twist with bright colors and designs, like these from Li'l Crafters.
13. Spray paint art
This is super-fun and super-easy spray paint craft is a definite outdoor activity for summertime. The kinder teacher at Kristen's Korner outlines the kids' names in Scotch tape and then lets them get creative with paint in spray bottles before removing the tape and admiring their work. 
14. Pipe cleaner flamingos
You'll only need a few materials to make this lovely pink pipe cleaner flamingo craft from Artsy Craftsy Mom.
15. Egg carton wreath
Reduce! Reuse! Recycle! And find creative ways to upcycle trash into treasure — for example, you can turn empty egg cartons into a bright and summery DIY flower wreath, a great idea from Kids Korner Toys.
16. Butterfly paper folding
The end result of these folded paper butterflies is really pretty and easy to hang as summery décor. Get full instructions from Red Ted Art.
17. Pompom dragonfly
Who doesn't love googly eye crafts? Make this easy pompom dragonfly by Craftopolisng with kids of any age.
18. Construction paper octopus
It only takes colored paper and some googly eyes to make this super-cute construction paper octopus from Core 4 OT.
19. Light-up fireflies
With pipe cleaners, googly eyes and plastic eggs, kids can make these cute light-up firefly crafts from Raising a Legacy Bookshelf. Add a mini Solo cup to the bottom, complete with battery-operated tea lights to make them glow like the real thing.